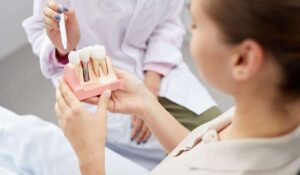 The decision to get dental implants can be very overwhelming when you don't know where to start. But once you find the right dentist, you'll be on your way to a brand new smile that will last for years and years to come! Here are 5 tips to help you choose the right dentist for receiving dental implants in Sydney so that you can move forward with your dream of having perfect teeth and a better quality of life.
Interview Several Dentists
First, research dentists in your area that specialise in dental implants in Sydney. Schedule a few appointments with them and interview them by asking questions such as: What makes you different from other dentists who do dental implants? Do you personally do all of your own implant procedures? How many years have you been doing dental implants? Are there any specific credentials that make someone a good candidate for receiving dental implants? Do you provide affordable dental implants Sydney? After meeting with several dentists, talk with friends and colleagues about their experiences with these dentists.
Look At Their Experience with Implants
If you want to receive dental implants, then it's a good idea to look at your dentist's past work. Make sure that your dentist has performed enough of these procedures, as not all dentists will have experience with them. Additionally, check to see if there are any memberships or associations that verify their abilities and expertise in receiving dental implants. Patients can also ask around; you might know someone who has had an implant procedure done before, and they can tell you who did their treatment and whether or not they would recommend him/her.
Consider Their Success Rate
Just because someone has they hold the degree doesn't mean they know are specialised in placing implants. There are different methods for doing so, and some dentists are better than others at getting it right. Before you make your appointment, find out what percent of the dentist's patients have needed revision surgery because of initial mistakes. Your doctor should be proud of his or her success rate. Trust your gut feeling if something seems fishy, it probably is!
Like anything else, you get what you pay for. That's why it's important to thoroughly research your dentist's fees and reputation before deciding on one. It can also be helpful to read online reviews from past patients. A quality dentist will do everything possible to keep costs down and will offer payment plans that won't break your budget. And remember, there are often affordable options available, especially if you have dental insurance or Medicare.
Check with a few different dentists and ask about fees for various types of dental implants or procedures; some dentists offer low-cost options, as well as payment plans so you don't have to spend thousands up front. When making an appointment, mention any payment plan you might qualify for.