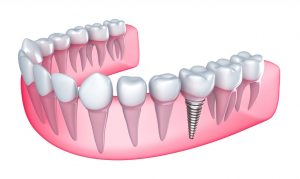 Tooth loss is a common problem for older people, but recent studies show that losing teeth is also a great concern among younger people. A few of the most leading causes of tooth loss are tooth decay, trauma, and hypodontia. Dental implants have become extremely popular because they're the most advanced dental treatments currently available which solve all the tooth problems accurately. The dental implants cost in Sydney is too low when compared to the cost of treatment in other countries.  To understand the cost of dental implants, first and foremost you need to understand the factors of the dental implant which is discussed below?
Factors that make up the cost of the dental implant:
Pre-treatment consultations and diagnostics.
Appointments throughout the procedure, typically around 10.
The implant surgeon's fee.
The abutment which screws onto the top of the dental implant.
The precision screw often made of gold which fixes the abutment onto the dental implant.
The dental implant Crown/bridge/denture which fixes over the top of the implant and is the final replacement of the missing tooth.
Possible dental sedation during treatment.
Postsurgical appointments to check on healing.
Cost Estimates for Dental Implants:
On average, the cost of dental implants in Sydney for all type of dental implants is cheap compared to others, and you can save 70% of the price from your savings. There is no set charge for dental implant procedures. Each dental clinic can vary widely on diagnosis and cost. The additional procedures required to achieve the best results is entirely based on the type of dental implant you chosen That's why it's best to get an estimate from a dental implant expert who has examined your mouth and missing teeth. Try to look for a dentist who has more years of implant experience so that he/she will be able to assess your case more accurately. Don't forget to get an insurance coverage for your dental implant. . Some dental insurance providers offer insurance to help cover the costs of getting a new implant if the first one fails within 12 months.
Are Dental Implants Worth The Cost?
Yes, obviously! But the thing you have to do is select the right dentist who cares for you. A lot of clinics offer a free consultation. Visit or contact the experts of  cheap dental implants in Sydney and get their prices for your case. This increases your chances of finding low-cost dental implant. Although tooth implants are usually more expensive than bridges and dentures, they're considered a worthy investment for your overall dental health because the long term benefits easily outweigh the difference in the additional cost. So Schedule Your Appointment now and save the life of your smile.