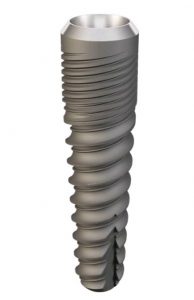 People are conscious about their smiles more than ever. With the increasing popularity of social media and selfies, users would like to flaunt beautiful smiles through the pictures they post. As a result of this urge, most of them seek dental implants treatment to replace missing teeth and correct their smiles. However, some of them are left disappointed due to bad candidacy for dental implants.
Demand for Dental Implants:
Studies reveal that the demand for dental implants treatment has been increasing over the years, which has prompted researchers to develop this new type of dental implants. It is estimated that the implant and prosthetic market is set to reach a value of USD6.4 billion by 2018. To increase the success rate of implants and to ensure more patients are offered the treatment, narrow-diameter dental implants have been developed.
Impossible Made Possible with Narrow-Diameter Dental Implants
Dental implants specialists suggest that the narrow-diameter dental implants have opened doors for new possibilities in dental treatments. With the adoption of this new form of dental implants, a notable increase in implant acceptance is discovered alongside increased satisfaction amongst patients.
There have been more myths and misbeliefs surrounding narrow-diameter dental implants circulating already, which also includes them being referred to small-diameter dental implants or mini implants.
What Else You Need to Know:
Narrow-diameter dental implants are considered a major asset for dentists and oral surgeons. For those who were previously denied dental implant treatment due to compatibility reasons, narrow-diameter dental implants will be a lot more helpful.
One good news about narrow-diameter dental implants is regarding the cost associated with it. The narrow-diameter dental implants cost is comparatively much lesser than conventional dental implants. This way patients get to save more, thus helping them preserve more money to pay for consultation and other expenses.
Narrow-diameter dental implants also have an edge over regular dental implants. The procedure is less-complicated and also requires less time to get it done. These new dental implant also help maintain adequate bone density and spacing for aesthetics. Narrow-diameter implants also feature a unique screw-retained abutment that reduces stress on the implants. This paves the way for easy maintenance and long-term usage.
Narrow-diameter implants offers implant treatment for those who were once deprived of the same. Perhaps, the biggest bonus of the treatment is that such category of patients received the same level of care and acceptable results as other eligible patients would.
Narrow-diameter dental implant is set to rule the dental implants market with reduced dental implants cost in Sydney, increased success rate and increased accessibility for more patients. These newly developed dental implants will only elevate the experience of the treatment for patients and provide better results that can be maintained for an extended period of time.