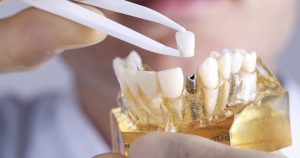 Dental implants have emerged as the go-to solution for people with missing tooth problems. Dental implants in Sydney have imparted a peaceful life for people who have endured pain with the use of dentures. Implants work and function just like your natural teeth and are long-lasting too. This also means that dental implants are prone to decay or other problems if you don't maintain it well. Here are 5 tips you need to follow to keep your dental implants in top shape.
Choose Your Toothbrush and Toothpaste Carefully
Always remember to avoid using rough toothbrush when you have dental implants. Go gentle on them. Choose a soft toothbrush that is capable of given your teeth and dental implants a good clean. Also, replace your toothbrush once every three months.
When choosing a toothpaste, do not go for those that contain granular particles such as baking soda as they could harm your dental implants. Baking soda can scratch the surface of the implants, thus making it easy for them to wear out. Also avoid toothpaste with high fluoride content.
Consume Sugary Foods in Moderation
Too much of sugar is not good for your teeth. This applies for your affordable dental implants as well. Excess sugar consumption can possibly create gum diseases. When you avoid or consume sugary foods in moderation, you get to maintain optimal gum health and long-lasting dental implants.
Brush Your Teeth Regularly:
The general rule of thumb is to brush your teeth twice a day. Some people though, are simply reliant on mouthwash that might not be an ideal way of maintaining oral health in the long run. Even if you use a mouthwash, it is essential to brush your teeth, so as to avoid any stains or dirt trapped within.
Don't Forget to Floss:
There are indeed hard-to-reach areas that needs to be cleansed, and this is made possible with flossing. Flossing not just helps your natural teeth but your implants too. Using mouthwash right after is a good practise of oral hygiene.
Do Regular Check-ups:
Maintaining dental implants in Sydney not just requires regular brushing of teeth and proper food consumption, but they need to be taken care of by your dentist on a regular basis. The care and maintenance that dental implants require is quite different from that of your natural teeth. This is why you need to visit your dental on a periodical basis and obtain their advice or suggestions as to what you should do to make them last longer. These are some of the best ways to maintain cheap dental implants. Every step you take towards maintaining your oral health is equally applicable to your dental implants too. Get in touch with a dental professional who can guide you more on this.