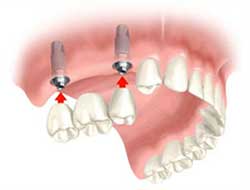 Dental implants continues to grow in demand and is one of the top demanded solutions for tooth replacement. One of the major reasons behind the growth of the dental implant and prosthetics market is the adoption of the cylindrical dental implants. Increasing Per Capita profits of dental implants is also another aspect that drives the dental implant market. Here are some major findings of the Dental Implants & Prosthetics market forecast:
The dental implant and prosthetics market is expected to grow with a compound annual growth rate of 7.96% during the period from 2017 to 2025. Also, the revenue generated by the market is projected to rise from the present $8696 million to $17307 million by 2025.
Increasing occurrence of dental caries, dental problems amongst the elderly, and edentulism within the economically backward class are some of the factors leading to the growth of the dental implants demand.
Continuous development of newer dental implant technologies make way for an effective care, which has eventually lead to an increase in the number of dental implant procedures.
Urbanisation of several Asia-Pacific countries is also found to be another factor for the increase in demand.
Despite zirconium being used for the development of dental implants, titanium is the most preferred material for making one piece and two piece systems, for being more versatile.
The global dental implants market is being divided into various segments:
By-Products,
By Material,
By Type, and
By procedure
The 'By-products' category include dentures, crowns, inlays and onlays, veneers, and more.
The 'By procedure' category consists of root-form dental implants and plate-form dental implants.
The 'By material' category includes titanium and zirconium.
When it comes to type, there are three types of dental implants: value implants, premium implants, and discounted implants, out of which premium implants saw great demand in various developed countries.
The demand is only set to grow:
The demand for dental implants is only set to rise in the coming years, thanks to the adoption of CAD and CAM technologies used for improving the design, increased usage of dental biomaterials and better specialisation of cosmetic dentistry. Frequent occurrences of dental tourism proves that the global demand for dental implants and prosthetic market is set to take an upward trend, whilst harnessing plenty of growth opportunities.
The Goodness of Dental Implants:
Dental implants are demanded by both patients and dentists alike because of the following benefits:
They are highly durable
They are easy to use and maintain
They are cost effective
They function as natural teeth
Owing to the above benefits coupled with technological advancements, usage of dental implants has become a branded procedure for the replacement of missing teeth. Higher success rates of dental implants also account for a wide appeal of dental implants all over the globe.