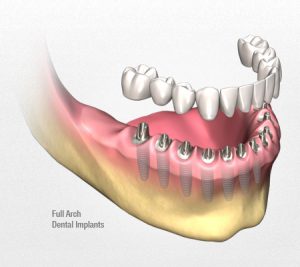 People with missing teeth often encounter difficulties fulfilling their daily activities. Over the years, various dental solutions have emerged to resolve missing teeth problems, and they include dentures, dental bridges and more. Out of all the dental solutions available today, cheap dental implants in Sydney has become the most demanded solution amongst patients to resolve missing teeth problems.
What is a Dental Implant?
Dental implants are  artificial tooth roots that are made of Titanium. Dental implants are placed in the jawbone, with a crown that is placed on top of it. These dental implants are also used to support dentures, as well as to provide more stability to dental bridges. Dental implants are compatible for both partial and full tooth replacements.
Dental Implants – A Modern Approach to Tooth Replacement
As mentioned earlier, dental implants is a modern approach adopted for replacement of missing tooth. Owing to the comfort and durability it offers, dental implants are preferred to dental bridges and dentures for single tooth and multiple teeth replacement respectively. The dental implants cost in Sydney is also competitive.
Here are some of the reasons why dental implants are demanded by most patients today:
They look, act and feel like your natural teeth. One of the greatest benefits of dental implants is that people hardly notice the difference.
They are proven to be one of the strongest and long lasting tooth replacement solutions for patients.
They let you talk and chew just like natural teeth, thus letting you eat your favourite foods without discomfort.
Once the dental implants are mounted, it reduces the risk of bone loss.
As the gap between the teeth is filled with dental implants, your adjacent teeth becomes more stable and the chances of bacteria being accumulated to cause gum disease is reduced.
Minimally Invasive Procedure:
With the advancement in technology through the years, dental implant procedure has become more efficient. Dental implant surgery is a minimally invasive procedure that requires no cutting, which means patients get to avoid post-operative discomfort.
A Good Alternative to Dentures:
Dentures remained as an immediate solution for replacing missing teeth, in the past. They are still demanded by certain people today to reduce expenses and to prevent surgery. However, there are several downsides associated with dentures including the following:
They have less chewing power, thus leading to diet restrictions.
They might click when eating.
They can lead to bone loss.
They must be removed while eating.
They are to be placed in mouth using adhesives.
Your dentist will first determine if you are a good candidate of dental implants by analysing your condition and oral health. If you are not suitable for the treatment, appropriate solutions will also be provided by your dentist. With higher success rates and reasonable cost of dental implants in Sydney, investing in it is a good decision, if you are in need of replacing your missing teeth.