Yes! That's why dental implants are a popular teeth replacement option that many choose over other options.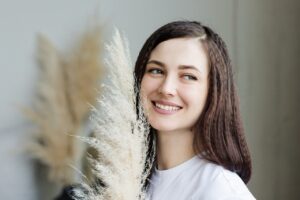 If you have lost your tooth due to dental decay or gum disease, or trauma, you would know how embarrassing it is to have a missing tooth. It would have taken a toll on your dental health and reduced your self-confidence. Just because you have lost your tooth, doesn't mean that you have to stay with it. Gone are the days when there were only limited choices for teeth replacement. Today, advancements in dental technology have paved the way for realistic teeth replacements that mimic natural teeth. Yes, we are talking about dental implants Sydney.
If you are looking for tooth replacement options, we would suggest placing dental implants as they have revolutionised the implant industry with their amazing results.
What Are Dental Implants?
Dental implants are a screw-shaped structure made of titanium material. It is surgically mounted into the jawbone. It is then allowed to fuse with the jawbone naturally through a process called osseointegration to form a sturdy foundation for holding the replacement tooth in place. Cheap dental implants Sydney is the only teeth replacement option that replaces both the root and crown of a missing tooth. That's they are able to provide realistic results, and its' worth the dental implants cost Sydney.
How Do Dental Implants Work And Function And Look Like Natural Teeth?
If you are looking for dental implants, you might be wondering how it works and provides realistic results? Is it worth the dental implants cost Sydney? Well, dental implants are custom-made to mimic the natural teeth of the receiver and made to last for a long period. They are inserted into the jawbone and allowed to fuse with the jawbone naturally. Since they are made of biocompatible material, implants don't harm your body. They are absorbed into the jawbone and forms a sturdy foundation to hold the replacement tooth in place. In short, implants act as the root of a replacement tooth. That's why they don't move or come out when eating or speaking like dentures. Once inserted, they won't be misplaced unless there's an infection.
Moreover, the replacement tooth is carefully crafted and customised according to your surrounding natural teeth, so they look like a natural tooth.
Thus, dental implants are able to function, feel, and look like natural teeth compared to other teeth replacement options. For more queries on dental implants cost in Sydney, please call us.