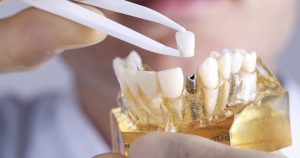 All-on-4 dental implants involve replacing of an entire row of teeth with just four dental implants. You get all your teeth back, and you don't have to worry about uncomfortable dentures. All-on-4 dental implants procedure makes use of four implants to replace the whole arch. The all on 4 dental implants cost in Sydney is higher compared to other tooth replacement options, but it is worth each penny you spend. Here we are going to discuss about the procedure and the benefits of all on 4 dental implants.
Benefits Of All-On-4 Dental Implants
It offers many benefits over conventional implants and removable dentures. These include:
Big saving on full mouth dental implants cost Sydney using traditional techniques
Shorter treatment and recovery time
Suitable for patients with jaw bone loss
Don't slip or fall out
Fixed in place – no need to remove for cleaning
Comfortable and stable structure to support crowns and bridges
Implants placed on the same day as extraction
Procedure
Initial Consultation
Your first step in the procedure will be a consultation with your chosen dentist. During this consultation they will examine your mouth and do a CT scan. This scan lets them assess your suitability for implants. They can check your existing jaw bone density to determine precisely where the implants should be inserted.
Your dentist should also discuss alternative treatment options with you before you commit to anything. He may also discuss about the various dental implants Sydney payment plan so that you can be prepared earlier.
If you are a suitable candidate and decide to go ahead, the next step will be dental impressions. These are sent to a lab where your new dental bridge is designed to fit and look just like natural teeth. Some dentists now have mouth scanning technology which lets them map out your existing teeth without taking impressions using putty.
Surgery
Your dentist or oral surgeon will probably offer you a sedative to help you relax during the procedure. All your teeth are extracted and your mouth is cleaned thoroughly to remove any damaged tissues. Then your dentist will place all the four implants into your jawbone. The new teeth will be placed on the same day or on the follow up depending on your oral health.
If you are wondering about the all on 4 dental implants cost in Sydney, you can contact Tooth Implant Sydney.