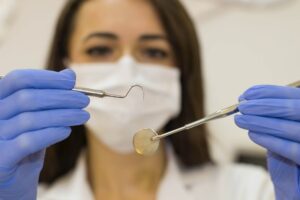 A missing tooth will drastically alter the look of your smile. A missing tooth can cause a variety of issues, depending on whether it is the result of gum disease, accident, extreme tooth decay, or a genetic disorder. Regardless of how a tooth is lost, it can have a detrimental effect on the teeth's alignment over time and lead to a variety of issues if it isn't replaced. Sometimes you don't know how valuable your teeth are until they're gone, and teeth don't last forever. Even a single tooth loss may have a negative effect on your oral health and self-esteem. A missing tooth or teeth will affect your voice, chewing capacity, the integrity of your jawbone, and cause your teeth to migrate into some of the empty spaces over time.
Dental implants
Dental implants in Sydney are one of the most common tooth replacement options. Dental implants are a highly dependable tooth replacement choice that looks and feels just like a natural tooth. If you need to replace a single tooth or multiple teeth in various places, cheap dental implants in Sydney are a permanent solution. Dental implants, if properly cared for, will last a lifetime. The procedure for inserting a dental implant can be time-consuming. It starts with the root of your tooth being replaced with metal screws, which will serve as an anchor for the false tooth that will be put on top. Once the screws are in place, you must wait a few months for the implant to heal, during which time the implant will become permanently fused to your jawbone. A dental crown will be put on top of the implant after it has healed fully.
Dental implants are one of the most popular ways to replace missing teeth because they have a very natural appearance and feel. Since your neighbouring teeth are not involved, your adjacent teeth are unaffected. They are a permanent, lifetime substitute that does not need to be checked on a regular basis and the dental implants cost in Sydney are affordable.
If the tooth was lost due to an accident, gum disease, or deterioration, there are many excellent choices for replacing it. Each choice has advantages and disadvantages that a dentist will help you consider based on your personal needs and budget. Even though there are a wide range of options for missing tooth, most dentists prefer dental implants treatment due to its success rate.
At Tooth Implant Sydney, our team of committed and highly qualified experts will assist you in finding the right cure for your missing teeth. We're dedicated to ensuring that you and your family have good oral health for the rest of your lives. Reach our dental clinic today if you are missing a tooth and would like to know more details about your care choices. At Tooth Implant Sydney, we provide affordable dental implants cost in Sydney.