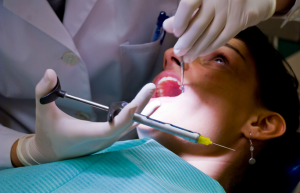 Dental implants have become the preferred treatment option for most patients who need to restore their teeth. Several patients are still so doubtful about post-operative care. Affordable dental implants in Sydney also require adequate care and maintenance even after the procedure, as it helps in easy recovery. Take a look at these important do's and don'ts suggested by professional dental implant specialists.
Do: Consume nutritious and healthy diet:
You cannot immediately chew your food after the procedure is done. But that doesn't mean you have to put up with boring and tasteless diet.  There's a huge list of delicious and nutritious foods that can help you maintain your health throughout the recovery period. Soft foods such as yoghurt, ice cream, fruit juices and more can offer you adequate nutrition when you don't have the ability to chew just yet. Keep in mind the wound inside your mouth when you are about to choose a food item.
Don't: Starting your normal routine without the consent of your dentist:
Loss of teeth is most probably due to inadequate care, insufficient oral health and other bad habits such as drinking alcohol, smoking and more. To obtain the best results from your dental implants procedure, put an end to any unhygienic practice and always nurture the ways with which you can maintain good oral and overall health. Cheap dental implants in Sydney offer great results that last long and it is your responsibility to maintain them for the long term.
Do: Practice everything that can help maintain your dental implants
The number of years the results produced by dental implants will sustain depends on your ability and effort in maintaining the same. As long as you take good care of it, dental implants will work just fine. You might probably have some questions to ask your dental professional. Don't hesitate to have your queries addressed.
Don't: Never try to fasten the recovery process
You will need sufficient time to properly recover after the procedure is done.  Therefore never try to get back to your regular activities without the dentist allowing you to do so. It is always advised to clear your schedule for a week after the surgery. This will give you enough time to recover yourself and get back to your normal routine without any hassle. Therefore, be patient enough for the treatment to complete, and the result will be a beautiful smile that you always wanted.
These are some of the important dos and don'ts you should always remember. Above all, finding the right professional who can offer the best dental implant treatment is important. Start your research today, search for your ideal dental implant specialist, and ask about the procedure. With reasonable dental implants cost in Sydney, you can surely get great results that include restoring your beautiful smile.